Click here for:  Freshman Year – Sophomore Year, Part 1 – Sophomore Year, Part 2
Sophomore Year, Part 3
I'm wrapping up my Sophomore year for you today.
I last left you at…"And then I met a boy."
Circling back to the post that started this all, My Inner Nerd, I have to explain something quickly.  Being a nerd, I was in advanced math at my old high school.  When I moved to CHS, I learned that they did math "differently", meaning that you didn't follow the normal plan of Pre-Algebra, Geometry, Advanced Algebra, Trigonometry, and then Calculus.  No, CHS had Math 9, Math 10, Math 11, and Calculus.  It was "integrated math" where you got a little bit of everything each year, without labels.  It was weird.
So being the nerd that I am was, when I started at CHS, it was determined that taking Math 10 would be too easy for me, so I was lumped into the last section of Advanced Algebra (the integrated math program was new to my class, so those older than me were still in "normal" math classes) with a bunch of juniors.
Advanced Algebra was easy for me.  I've always found algebra to be easy (nerd).  It was soon apparent that I was perhaps the best in the class and I got a lot of attention for it.  Mostly from the boys that didn't really care to learn and knew that I would help them.  There were two boys in particular…John and Don.  I'm using their real names because I see no reason not to use them.
John and Don were friends.  They played Varsity baseball, while I was playing JV softball.  Advanced Algebra let us get to know each other a little more.  Don was the semi-trouble maker, cute guy with huge dimples.  He wore tight Levi's and sometimes a cowboy hat.  He was CUTE.  And a total flirt.  I instantly fell for Don.  I loved to flirt with him…and I sure he enjoyed it too.
John was more of your "boy next door" type.  Cute, but nothing to write home about.  He and I talked a lot, and he flirted with me, but I had my sights set on Don.
Until John called me one night and asked me out on a date.  Wait, what??  John?? No, no, no.  It's not supposed to be John!!  In typical bitchy high school fashion, I turned him down.
Two weeks later, he asked me out again.  This time, I seriously had something going on, so it was easy to tell him no.  But we began talking a little more, and I realized that as long as John liked me, I had zero chance with Don.  Plus, Don was the bad boy…and he would never date me, little goody two-shoes.  More likely, he would use me and throw me to the curb.
So the next time John called and asked me out (persistent little punk, huh?) I said yes.  We made a plan to do something that coming Saturday, after my double-header softball game.  John came and watched my game, and then gave me time to go home and get cleaned up before coming over.
This was my first "real" date.  I was very excited…and nervous.  My parents didn't help things when they all of a sudden told me they were leaving the house and to have a good time.  WHAT?!?! My parents were leaving me at the house with this guy?  How messed up is that?  I guess I should have looked at it as a good thing, that they really trusted me.  But at the time, I was just so confused and nervous…it just added pressure.
I don't even remember what we did on that first date.  I'm sure we went to dinner and then bowling or to a movie or something.  And like my first ever real kiss, I don't remember all the details, but I do remember that John wasn't that great of a kisser.  I remember slobber and teeth.  What is with my luck??  That's okay though…there was enough attraction there for me to overlook it.
John and I started spending more time together, and before we knew it, we were a couple.  We were the school's newest couple, so it was kind of a big deal.  While many of the upper class men had no idea who I was up until that point, they soon learned.
While all of this young romance was going on, good things were also happening in softball.  During a tournament, the Varsity coach happened to come to watch, and he liked how I played.  I was pulled up to Varsity for the tournament season (districts, regionals, etc.).  I was mainly used as a "pinch runner" for our pitcher.  That means that after she got a hit and got on base, I would go and run the bases for her.  Our pitcher was excellent and we couldn't risk her getting hurt, plus she was slower and I was really quick.  While I didn't really "play", I was content running bases since it meant that I was part of the Varsity team.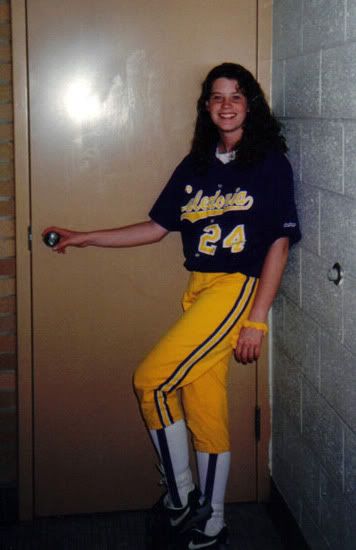 Picture of me in my "Varsity" uniform before my first game as a Varsity player
Once I was "accepted" by the other teammates, and got to know some of the Varsity boys (the two teams traveled together), I started to learn some interesting information about John.  Stuff I was willing, at the time, to ignore.
End Sophomore Year, Part 3.  The next in my high school series, Junior Year, will be posted on Tuesday, October 19.
This post is linked with Rachel and Mr. Daddy's True Story Tuesday meme, over at Once Upon a Miracle.  Please head over there for some more great stories!