A little while ago, I was contacted by BuildASign.com to review their sign making process. A sign?, I wondered. Why would I want/need a sign?
And then I checked BuildASign.com out, and realized that BuildASign.com is about signs, but it's also about much more than just your typical signs.

BuildASign.com offers any kind of sign you can imagine. Neon signs, parking signs, bumper stickers, banners, magnetic signs for your vehicle, vinyl clings, etc. The list seriously goes on and on.
So once I realized all that BuildASign.com had to offer, I needed to figure out what I wanted. After spending a lot of time reviewing the site, I finally decided to order some vinyl decals for the boys' rooms. A hockey goalie for Buddy's new hockey room, and a checkered flag for Buster's new Disney Cars themed room.
The ordering process is super easy and quick. You select what you want to order and then are taken to a "design" screen. Once in the design screen, you can customize your product by size, color, graphic, and text. You can then preview exactly what the finished product will look like.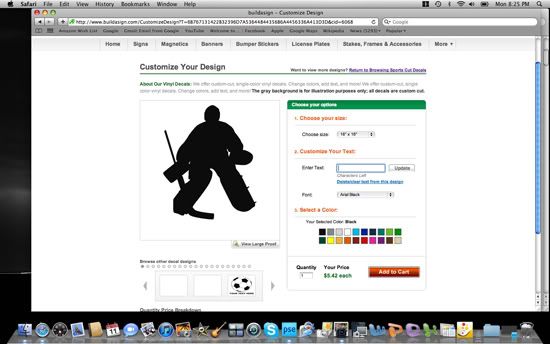 I went with basic black for both of the vinyl decals, and selected different sizes for both, based on where they were going to be displayed.
Once everything looked great, I submitted my order and received the products within just a few days. I was very impressed with the ordering and delivery process.
The vinyl decals came with easy to use instructions. While we aren't yet ready to put the goalie up in Buddy's room (we need to paint), we did put one part of the checkered flag decal in Buster's room. Jdaddy and I worked together to get it up and I think it looks great!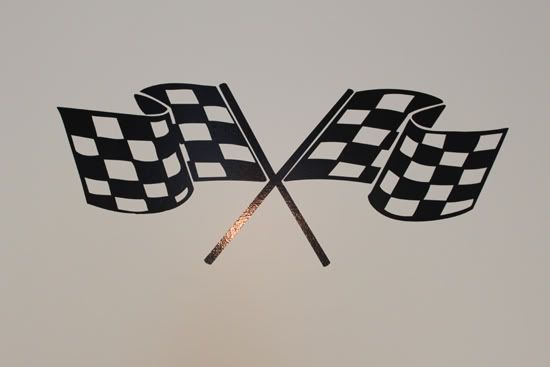 Buster loves his checkered flags.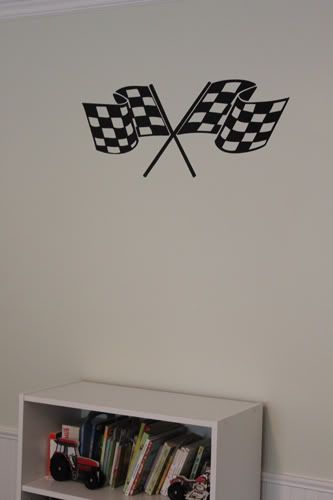 Make sure you check out BuildASign.com for any of your sign needs. In fact, now through August 15, 2011, get 10% off your order by entering MOMBLOGGERS at checkout.
Disclosure: I received complimentary products in exchange for my review. All opinions expressed are my own.