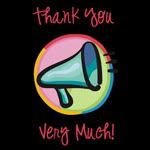 What's TYVM (Thank You Very Much)? It's my way of sarcastically thanking all the little things that have ticked me off. It serves as free therapy, and boy do I sometimes need some free therapy! TYVM used to be a weekly meme, however, I retired it awhile ago due to lack of participation. The button is still on my sidebar in case you'd like to play along. If so, please leave the link in the comments and I'll be sure to come and visit.
To the nasty cold that first knocked out Jdaddy, then Buddy, and then myself, Thank You Very Much. I had enough going on last week without having to deal with a cold.
Thank You Very Much to the sun, which was out, but went away just in time for me to take my niece's pictures, and then came back out promptly after we were done. I still got a few good shots, but the sun would have helped.
To the SuperBowl, Thank You Very Much for being held on a Sunday evening. The timing of the game makes it practically impossible for parents and individuals who work to enjoy the game and the festivities that surround it. It's almost not worth attending a party to only watch an hour or two and then rush home to put your kids to bed.
And finally, Thank You Very Much to the very expensive mattress we bought that is now sagging and has become extremely uncomfortable. It's less than 3 years old and I feel like I'm sleeping in a pit. On the plus side, I my abs are getting a good work out each time I have to roll over.
Everybody can use some free therapy. What/who do you want to thank this week?