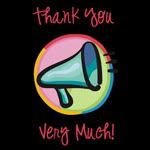 What's TYVM (Thank You Very Much)? It's my way of sarcastically thanking all the little things that have ticked me off. It serves as free therapy, and boy do I sometimes need some free therapy! TYVM used to be a weekly meme, however, I retired it awhile ago due to lack of participation. The button is still on my sidebar in case you'd like to play along. If so, please leave the link in the comments and I'll be sure to come and visit.
Thank You Very Much to Murphy, who feels the need to chew everything. I realize he's just a puppy, but "everything" includes the dryer door (as in the "washer and dryer"), the couch, feet, backs of arms, toes, inner thighs, etc. He chews everything but his toys and bones.
To Mother Nature, Thank You Very Much, for teasing us. We've had AWESOME weather for the past two weeks. And while I realize that was a bonus, it still sucks that we're going to have cold, rainy weather for the next week.
To the thunderstorm that caused the power to go out last week, Thank You Very Much. Dealing with two little kids that were TERRIFIED was not fun. I don't like it when the power goes out either, so I'm not much of a consolation to the boys.
And finally, Thank You Very Much to Buster for being in a "I am going to wait until the absolute last second to go potty and then have an accident while trying to hurry there" phase. As if cleaning up puppy pee wasn't enough, I'm dealing with Buster pee. Grr.
Everybody can use some free therapy. What/who do you want to thank this week?