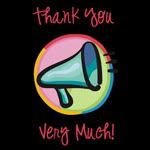 What's TYVM (Thank You Very Much)? It's my way of sarcastically thanking all the little things that have ticked me off. It serves as free therapy, and boy do I sometimes need some free therapy! TYVM used to be a weekly meme, however, I retired it awhile ago due to lack of participation. The button is still on my sidebar in case you'd like to play along. If so, please leave the link in the comments and I'll be sure to come and visit.
Thank You Very Much to Murphy, who eats anything and everything outside. It's seriously ridiculous. If he's not on a leash, he'll immediately run to the mulch and grab a mouthful. Then he runs like a maniac around the yard, making it impossible to catch him. As soon as he's eating enough of the mulch, he'll then pick up some dry leaves, or sticks, or rocks, or whatever else he can fit into his mouth and do the whole "run around like a maniac" thing again.
And another for Murphy, Thank You Very Much for using me as your personal chew toy. For the record, I am NOT a chew toy. I'm the only one that you insist upon chewing on my hair, sweater, pants, hands, etc. Perhaps I should take it as a compliment, but no. No. That is just not a compliment. STOP IT.
And before you think that I should dedicate this TYVM to Murphy, I have one more.
To Buster, who, to make a long story short, went missing yesterday while at my inlaws (who live on a lake), Thank You Very Much for simultaneously giving me a panic attack and aging me at least 10 years. I swear there's nothing worse than not being able to find your child, especially when you're around a large body of water. Thankfully (for real), we found him at the neighbors house, safe and sound.
What do you want to Thank this week?