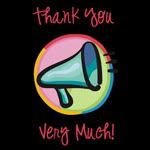 What's TYVM (Thank You Very Much)? It's my way of sarcastically thanking all the little things that have ticked me off. It serves as free therapy, and boy do I sometimes need some free therapy! TYVM used to be a weekly meme, however, I retired it awhile ago due to lack of participation. The button is still on my sidebar in case you'd like to play along. If so, please leave the link in the comments and I'll be sure to come and visit.
I have a semi-serious one this week.
Thank You Very Much to the fact that Spring Break is never really a break for my boys.
As a dual income family, Spring Break really doesn't mean anything. Jdaddy still works. I still work. And therefore, Buster still goes to daycare, and because school isn't in session, Buddy goes to daycare too.
Every year, I feel badly that Spring Break means absolutely nothing to our family. While we often take vacations, we never take them during Spring Break because of the cost. So, while my kids watch their friends take off for a week, we stay home and life goes on just like normal.
This is the first year that Buddy has really noticed that some of his friends are actually taking advantage of Spring Break, so he's asking questions, and feeling disappointed that we aren't doing anything fun. It's tugging on my heart strings.
Do you do anything for Spring Break? If not, do you feel guilty?