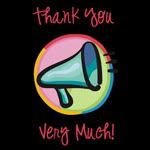 What's TYVM (Thank You Very Much)? It's my way of sarcastically thanking all the little things that have ticked me off. It serves as free therapy, and boy do I sometimes need some free therapy! TYVM used to be a weekly meme, however, I retired it awhile ago due to lack of participation. The button is still on my sidebar in case you'd like to play along. If so, please leave the link in the comments and I'll be sure to come and visit.
Well, it's definitely Spring. And that means Spring sports. And Spring sports means that I have zero free time.
Thank You Very Much to Buster's T-ball coach for volunteering to coach. While I should be thankful for someone volunteering their time, I'm pretty sure his coach has never played baseball before in his life.
And, likewise, Thank You Very Much to myself for volunteering to help coach Buster's team. As if I have the time for this…however, I just couldn't stand the thought of the kids struggling all season.
To my spring allergies, which are driving me crazy, Thank You Very Much. I know they said we'd probably have a rough allergy season because of our mild winter, but I didn't expect to be so miserable. Every morning is like the first day of a terrible cold. It's getting really old.
What/who do you want to Thank this week?