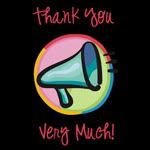 What's TYVM (Thank You Very Much)? It's my way of sarcastically thanking all the little things that have ticked me off. It serves as free therapy, and boy do I sometimes need some free therapy! TYVM used to be a weekly meme, however, I retired it awhile ago due to lack of participation. The button is still on my sidebar in case you'd like to play along. If so, please leave the link in the comments and I'll be sure to come and visit.
Before I get to the funsarcastic Thank You's, I want to send out a truly heartfelt Thank You to Courtney, from GCS Design, for updating my look. She pulled off the changes with very little input from me. I'm probably a designers worst nightmare. I can't tell you what I want, but I will tell that I don't like something. And then think of a million things that I might want after the work is already in progress. The design is still a work in progress right now. I have a few other changes I hope to make, and Courtney is working on those for me. Thanks again Courtney.
I skipped last week's Thank You Very Much because of the holiday, so I have some old Thank You's that I need to get off my chest.
Thank You Very Much to the crappy camping weather we were graced with over Memorial Day weekend. It was awesome that the skies finally cleared up and the heat arrived on the morning that we were leaving. Figures.
To the bug that attacked me (more on this later this week), Thank You Very Much for freaking me out to epic proportions.
To Murphy, who tore apart his bed, Thank You Very Much. Dog beds are NOT cheap, and I do not work just so I can buy you dog beds. However, as mad as I wanted to be at you, walking into the house and see you surrounded by dog bed fill and looking so innocent was almost too much to bear, so yes, I did laugh.
What/who do you want to Thank this week?