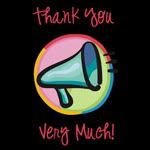 What's TYVM (Thank You Very Much)? It's my way of sarcastically thanking all the little things that have ticked me off. It serves as free therapy, and boy do I sometimes need some free therapy! TYVM used to be a weekly meme, however, I retired it awhile ago due to lack of participation. The button is still on my sidebar in case you'd like to play along. If so, please leave the link in the comments and I'll be sure to come and visit.
Thank You Very Much to my sleep issues as of late. One night my allergies will be bugging me and the next I just can't get comfortable no matter what I try (I realize this will only get worse as the weeks go on). I honestly can't remember the last time I had a good night's sleep.
To the chocolate milk stain that is permanently imbedded in Buster's shirt, Thank You Very Much. I have seriously tried almost everything to get it out. I even went to Facebook and asked for suggestions. I finally soaked it in Oxi Clean (per recommendation) and I'm pretty sure it took the stain out. The bad news? It also completely discolored his shirt. Just to be clear, chocolate milk is no longer allowed unless the cup has a top.
To Murphy's Law, Thank You Very Much for always stepping in and making yourself known at the worst times. As Jdaddy, myself, my mom, and my mother-in-law were all on our way to my ultrasound on Thursday, I got a call from Buddy's school letting me know that he was sick. There's nothing like scrambling to make arrangements as your trying to get out the door.
And finally, Thank You Very Much to my grocery store, who was out of many of the things that I normally buy for Buddy's lunch. With him being such a picky child, it's hard enough to find stuff that he'll eat. When that's not available, it's extremely frustrating for both of us. I also don't plan to run to the grocery store more than once a week, so finding time to go there a second time is a PITA!
What/who do you want to Thank this week?