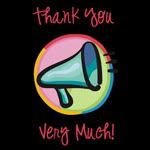 What's TYVM (Thank You Very Much)? It's my way of sarcastically thanking all the little things that have ticked me off. It serves as free therapy, and boy do I sometimes need some free therapy! TYVM used to be a weekly meme, however, I retired it awhile ago due to lack of participation. The button is still on my sidebar in case you'd like to play along. If so, please leave the link in the comments and I'll be sure to come and visit.
Thank You Very Much to pregnancy clumsiness. I totally wiped out in my driveway this weekend, scraping up my knee and putting a hole in my only pair of maternity jeans.
To the furniture store that only had 3 different styles of couches for us to look at after we drove almost an hour to go to the store, Thank You Very Much. I had no idea that it would be so hard to find a sleeper sofa for our basement. I don't want to order something blind, without sitting on it first.
To my stuff nose, Thank You Very Much for making it hard to breathe at night. Even worse, Thank You Very Much for causing me to snore. I never snore unless pregnant or really sick. Lately, after I FINALLY get comfortable and fall asleep, I'll wake myself up from snoring. It's so irritating!
And finally, Thank You Very Much to TLC's television show, Breaking Amish. I know it's not real, yet I can't pull myself away. It's like watching a train wreck.
What/who do you want to Thank this week?