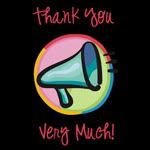 What's TYVM (Thank You Very Much)? It's my way of sarcastically thanking all the little things that have ticked me off. It serves as free therapy, and boy do I sometimes need some free therapy! TYVM used to be a weekly meme, however, I retired it awhile ago due to lack of participation. The button is still on my sidebar in case you'd like to play along. If so, please leave the link in the comments and I'll be sure to come and visit.
I had a pretty shitty week last week. I'll spare you all the details and keep this sweet and simple.
Thank You Very Much to Murphy and whatever he ate that caused him to poop all over himself and his crate not once, not twice, but THREE times last week. I'm talking all over the place…the wall, the floor, himself, his bed, etc. Furthermore, Thank You Very Much for two of those episodes occurring when I was the only one around to take care of it…and for the other episode occurring during the middle of the night.
So yeah, I think that pretty much sums up my shitty (literally!) week.
What/who do you want to Thank this week?