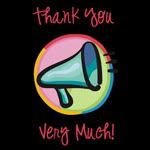 What's TYVM (Thank You Very Much)? It's my way of sarcastically thanking all the little things that have ticked me off. It serves as free therapy, and boy do I sometimes need some free therapy! TYVM used to be a weekly meme, however, I retired it awhile ago due to lack of participation. The button is still on my sidebar in case you'd like to play along. If so, please leave the link in the comments and I'll be sure to come and visit.
Thank You Very Much to the mom from Jdaddy's high school hockey team who asked me which son on the team is mine. Umm, my oldest is only 8, definitely NOT old enough to play high school hockey.
To the other mom from the high school hockey team that then seemed utterly shocked that I wasn't due until February, Thank You Very Much. Note to self: to preserve your self esteem, stay away from the high school hockey games.
To employees that don't know how to behave, Thank You Very Much for making my normally "slow time" at work exceptionally busy. If you could just do your job, keep your mouth shut, and show up for work, it would make my life so much easier.
And finally, Thank You Very Much to my continued pregnancy brain, which almost led to a failure with Cody, our Elf on the Shelf on day 2 of his visit with us. Thankfully, I remembered as soon as I woke up and was able to quickly rectify the situation. As an aside, TYVM to myself for ever starting this tradition. Yes, it is cute, but coming up with different poses/situations on a daily basis every year is HARD.
What/who do you want to Thank this week?