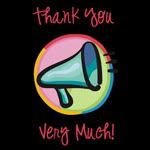 What's TYVM (Thank You Very Much)? It's my way of sarcastically thanking all the little things that have ticked me off. It serves as free therapy, and boy do I sometimes need some free therapy! TYVM used to be a weekly meme, however, I retired it awhile ago due to lack of participation. The button is still on my sidebar in case you'd like to play along. If so, please leave the link in the comments and I'll be sure to come and visit.
Thank You Very Much to Kohls for shipping Jdaddy's Christmas gift in a box that clearly identified what was inside. Of course he was the one to accept the delivery from UPS so he saw exactly what he was getting. Is it too much to ask that companies not ship items in identifying boxes during the holidays???
Who whomever stole our recycle bin, Thank You Very Much. You'd think that if you were responsible enough to want to recycle, you wouldn't steal from others. I guess not though.
To my lack of time, Thank You Very Much for making me feel like I can never catch up. We don't have any free weekends between now and Christmas and I have no idea when I'm going to find time to order, let alone do, Christmas cards. I haven't even started Buster's annual photo slide show and his birthday is next week Wednesday.
And finally, Thank You Very Much to my inability to get anything done (see also lack of time above). I absolutely cannot accomplish everything that needs to be done and I constantly feel like I'm letting my family down. Just keeping up with the laundry and grocery shopping requires almost more effort than I can muster. This weekend marks another weekend where I didn't get any cleaning done…both due to lack of time and lack of energy. I'm so frustrated and discouraged.
What/who do you want to Thank this week?