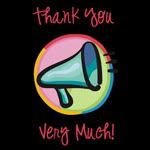 What's TYVM (Thank You Very Much)? It's my way of sarcastically thanking all the little things that have ticked me off. It serves as free therapy, and boy do I sometimes need some free therapy! TYVM used to be a weekly meme, however, I retired it awhile ago due to lack of participation. The button is still on my sidebar in case you'd like to play along. If so, please leave the link in the comments and I'll be sure to come and visit.
To circumstances beyond my control that necessitated me to be absent when Buster opened his birthday presents last week, Thank You Very Much. I feel so unbelievably terrible that I wasn't there. The only upside is that Buster really didn't care as long as he got to open his presents.
To the doctor that told me that the chest pain I was experiencing was an "odd presentation of GERD", Thank You Very Much. Umm, no. I've had acid reflux and have been on meds for over 12 years. I know what that feels like, and pain in the center of my chest that only occurs when I laugh, cough, or take a deep breath is not at all related to my acid reflux.
To whatever is ailing Murphy this time, Thank You Very Much. I've been up with him almost every two hours every night for the past week. It's time for another vet visit. If I didn't know any better, I'd swear he's trying to get me ready for a newborn!
And finally, Thank You Very Much to Buddy's hockey coach who scheduled hockey games on both Saturday and Sunday the final weekend before Christmas. I mean, it's not like people will be busy trying to finish up things before Christmas or anything. Geez.
What/who do you want to Thank this week?
I can't not mention the terrible tragedy that occurred in Connecticut last week. I still haven't fully come to terms with what happened, so I don't want to post anything about it other than to say that my heart goes out to all those affected.