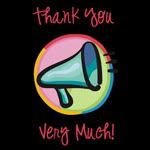 What's TYVM (Thank You Very Much)? It's my way of sarcastically thanking all the little things that have ticked me off. It serves as free therapy, and boy do I sometimes need some free therapy! TYVM used to be a weekly meme, however, I retired it awhile ago due to lack of participation. The button is still on my sidebar in case you'd like to play along. If so, please leave the link in the comments and I'll be sure to come and visit.
To the radio station we have our alarm set to, Thank You Very Much for having dead air on Tuesday. There's nothing quite like waking up in a panic because you've overslept.
Thank You Very Much to the nurse who wouldn't listen to me when I told her where to place the monitor during my weekly NST. The fact that she went ahead and placed it where she wanted, caused my normal 20 minute monitoring session to take 45 minutes.
To Murphy, Thank You Very Much for throwing up in the truck at a stoplight on our way home from the vet. Cleaning puke out of vehicle while 9 months pregnant is just awesome. Buster also didn't help the matter by gagging every few seconds because of the smell.
To the extreme exhaustion that has set in at the end of this pregnancy, Thank You Very Much. It is so dang hard to do the littlest tasks at this point. I'm so glad I have less than 3 weeks because I honestly cannot wait to get some energy back!
What/who do you want to Thank this week?