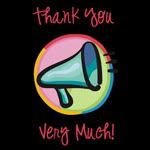 What's TYVM (Thank You Very Much)? It's my way of sarcastically thanking all the little things that have ticked me off. It serves as free therapy, and boy do I sometimes need some free therapy! TYVM used to be a weekly meme, however, I retired it awhile ago due to lack of participation. The button is still on my sidebar in case you'd like to play along. If so, please leave the link in the comments and I'll be sure to come and visit.
To my second UTI of this pregnancy, Thank You Very Much. Dealing with the pain and discomfort of a UTI is seriously for the birds. I'm so glad I don't normally get them (this is only the second one I've had. Ever.)
Thank You Very Much to everyone that has given me incomplete and conflicting answers regarding one of my medical benefits. I sure enjoy calling multiple places, multiple times, and then trying to put everything together to formulate an answer to my very.simple.question. I think I'm up to 10 phone calls now and I still don't have a definitive answer.
To the very expensive tests that Murphy needed to figure out what is going on, Thank You Very Much. While we know we need to figure out what is going on with him, spending a ton of money on blood tests to rule things out is a hard pill to swallow.
To our baby sitter, Thank You Very Much for having a lapse in judgement requiring us to talk to you more like a child than our sitter. I have quite a few more years before I have a teen in the house, and I'm really grateful for that. I don't really need to practice on other people's children.
And finally, Thank You Very Much to myself for allowing Buddy to have a friend over for a play date yesterday. I must have been delusional thinking that the friend would occupy him so that I could get some stuff done around the house. I couldn't work on any projects without having to stop multiple times to get snacks, drinks, set up games, break up fights, etc.
What/who do you want to Thank this week?