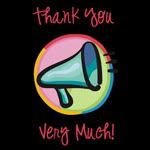 What's TYVM (Thank You Very Much)? It's my way of sarcastically thanking all the little things that have ticked me off. It serves as free therapy, and boy do I sometimes need some free therapy! TYVM used to be a weekly meme, however, I retired it awhile ago due to lack of participation. The button is still on my sidebar in case you'd like to play along. If so, please leave the link in the comments and I'll be sure to come and visit.
To the stomach bug, which infected Nick on his first day back to daycare, Thank You Very Much. The poor little punkin was sooo sick. He's all better now though.
Thank You Very Much to thrush (again). Seriously. I just found out last week that I might have to continue this madness (boiling, washing clothes in hot water, etc.) during another round of treatment. Apparently yeast is very hard to get rid of. Lovely.
To other parents of boys, Thank You Very Much for allowing your boys to wear God awful ugly tennis shoes. Right now, all Jack wants to wear are DC high tops. Have you seen those shoes?? U-G-L-Y. He's asking for them about 20 times a day right now. The answer will always remain the same. NO!
To Mother Nature, Thank You Very Much for this crappy weather. I feel like Spring is never going to come. Every time it warms up just a teensy bit, we get hit with another snow storm within a few days. I'm ready for some nice weather.
What/who do you want to Thank this week?
Have you entered my Squatchi giveaway yet? Squatchi is an innovative at-home children's shoe sizer. Enter here!