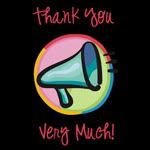 What's TYVM (Thank You Very Much)? It's my way of sarcastically thanking all the little things that have ticked me off. It serves as free therapy, and boy do I sometimes need some free therapy! TYVM used to be a weekly meme, however, I retired it awhile ago due to lack of participation. The button is still on my sidebar in case you'd like to play along. If so, please leave the link in the comments and I'll be sure to come and visit.
Thank You Very Much to whatever is causing my teeth to ache. Not just the molars, but ALL of my teeth. I never thought I'd say this, because I loathe the dentist, but I'm actually looking forward to my appointment next week.
To my recent indigestion, Thank You Very Much for showing up every single time I eat, no matter what I eat. Lately, even a couple bites of bread is likely to cause indigestion. Ugh.
To my lack of sleep due to last week's crazy schedule, Thank You Very Much. I averaged 5 to 6 hours of sleep each night because there just wasn't enough time to get everything done that needed to be done with baseball games, Jack's 2nd grade musical, and Nick's preschool graduation. I'm so glad this week's calendar is much slower.
And finally, Thank You Very Much to my girls' shopping trip being kind of a bust. Don't get me wrong, I had a blast and I'm so glad I took the day off and went with my friends, but I only bought three things for myself. I just couldn't find anything that I was excited about, or that looked good on me.
What/who do you want to Thank this week?