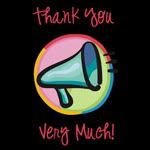 What's TYVM (Thank You Very Much)? It's my way of sarcastically thanking all the little things that have ticked me off. It serves as free therapy, and boy do I sometimes need some free therapy! TYVM used to be a weekly meme, however, I retired it awhile ago due to lack of participation. The button is still on my sidebar in case you'd like to play along. If so, please leave the link in the comments and I'll be sure to come and visit.
Thank You Very Much to the fact that it's already June 17th. Do you realize that Christmas is just 190 days away?? Tell me that's not crazy. I have no idea where the first half of this year went.
To Lucas, Thank You Very Much for your new sleeping habits that aren't very fun. I wish we could go back to when you regularly slept through the night and didn't give me a hard time about going to sleep at night. I'm thinking this is due to you teething, and if so, I guess it's not really your fault, but nonetheless, I'm ready for you to go back to being a great sleeper!
To Jack, who's great at insulting even though he doesn't mean to, Thank You Very Much. The other night, he was commenting on Luke's dark hair on the back of his head (his baby mullet), and he said, "Luke's hair is so dark there…kind of like your hair up on top", while he motioned to my roots. Leave it to a kid to point out when you're overdue for a hair appointment.
And finally, Thank You Very Much to the school district for canceling this week's intersession. School ended last week Friday and the summer camp doesn't begin until next week Monday. We were so excited to be able to send Jack to intersession rather than having to figure out daycare for this week. Only, not enough people signed up and they had to cancel. Of course it's not the school district's fault, but scrambling for daycare isn't fun at all.
What/who do you want to Thank this week?