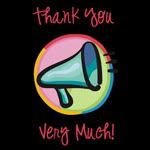 What's TYVM (Thank You Very Much)? It's my way of sarcastically thanking all the little things that have ticked me off. It serves as free therapy, and boy do I sometimes need some free therapy! TYVM used to be a weekly meme, however, I retired it awhile ago due to lack of participation. The button is still on my sidebar in case you'd like to play along. If so, please leave the link in the comments and I'll be sure to come and visit.
Thank You Very Much to the stomach ache that plagued me all week last week. I spent most of the week feeling pretty bad. Just when I thought it was better, it hit me with a vengeance last night.
To the bees, Thank You Very Much for being terrible this year and stinging half of my family. First it was Nick. Jdaddy got rid of your hive, or so we thought. You built another one and then stung Jdaddy and then even got Murphy. Poor Murph is apparently allergic to your stings, so he puffed up with a crazy amount of hives. I'm hopeful that the entire can of bee killer that Jdaddy unleashed on you sent you packing for good!!
To Amazon, who didn't label and explicit song as such, Thank You Very Much. I paid for the song and uploaded it to Jack's photo show, only to learn that it was indeed an explicit version and not the same version as played on the radio. Why do you label some songs as explicit and others you don't??
And finally, Thank You Very Much to YouTube and WMG for muting the audio to Jack's photo show so now I can't share it with anyone. I get the whole copyright thing, but I PAID for the song. And, it's not like anyone is going to watch my video just to hear the song when the official music video is also on YouTube. Other record labels will make it impossible to view the videos on anything but a PC, but WMG takes it to a whole new level. I feel like I wasted a bunch of time.
What/who do you want to Thank this week?