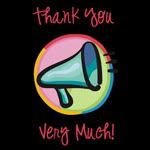 What's TYVM (Thank You Very Much)? It's my way of sarcastically thanking all the little things that have ticked me off. It serves as free therapy, and boy do I sometimes need some free therapy! TYVM used to be a weekly meme, however, I retired it awhile ago due to lack of participation. The button is still on my sidebar in case you'd like to play along. If so, please leave the link in the comments and I'll be sure to come and visit.
Thank You Very Much to the fact that car seat shopping is so daunting. It wasn't this hard when we bought and registered for car seats for Jack and Nick. I've spent countless hours scouring reviews, dimensions, and configurations only to feel like I'm back at square one.
To teething, Thank You Very Much for making Luke so miserable, and in turn, making me miserable. The poor little guy just has to cut one of those teeth soon.
To a work project, which basically blew up in my face last week, Thank You Very Much. I've spent a lot of time and put in a lot of effort on this particular project only to find out that I need to scratch all of my plans and start over. While I understand why I have to do this, it doesn't make it any less frustrating.
And finally, Thank You Very Much to bad sleep. I haven't been sleeping well for the past week. When I am sleeping, it's a very light sleep where I constantly wake up. I just want a good night's sleep!! Is that too much to ask for?!?!
What/who do you want to Thank this week?