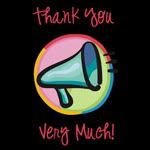 What's TYVM (Thank You Very Much)? It's my way of sarcastically thanking all the little things that have ticked me off. It serves as free therapy, and boy do I sometimes need some free therapy! TYVM used to be a weekly meme, however, I retired it awhile ago due to lack of participation. The button is still on my sidebar in case you'd like to play along. If so, please leave the link in the comments and I'll be sure to come and visit.
Thank You Very Much to the increasing number of bad drivers on the road. I wish I could understand why some people feel like they don't need to use their turn signal, drive the speed limit (not 20 mph under), or stop at a red light. I'm pretty sure every time I got behind the wheel of my truck last week, someone pissed me off.
To Murphy, Thank You Very Much for waking up and needing to go out on the ONLY night in I-can't-remember-how-long that Luke actually slept through the night.
To life, which literally just ran me over last week, Thank You Very Much. So many plans, so much left unaccomplished. *sigh*
And finally, Thank You Very Much to my favorite pair of jeans (or maybe "the only pair of jeans that currently fit me" is more accurate) which developed a tear in the crotch. I refuse to buy a new pair of jeans in that size, so it's crunch time and I'm back on My Fitness Pal. BLAH.
What/who do you want to Thank this week?