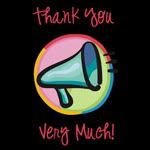 What's TYVM (Thank You Very Much)? It's my way of sarcastically thanking all the little things that have ticked me off. It serves as free therapy, and boy do I sometimes need some free therapy! TYVM used to be a weekly meme, however, I retired it awhile ago due to lack of participation. The button is still on my sidebar in case you'd like to play along. If so, please leave the link in the comments and I'll be sure to come and visit.
Thank You Very Much to the cold that I got almost immediately after getting over the stomach bug. How is that even fair??
To Luke's teeth, Thank You Very Much for all deciding to pop through at the same time. Four teeth in a matter of days is a lot for a little one to handle. Don't get me wrong, I'm so glad the teeth are finally through, but for all of them to come at once? No wonder he was so miserable.
To Luke and your new wake up time, Thank You Very Much. 5:30 really just doesn't work for me, especially since you refuse to go back to sleep. Let's go back to 6 a.m., okay? I don't really like that time either, but it works out a lot better for me and our morning routine.
And finally, Thank You Very Much to the fact that life is so extremely busy right now, that I can't get anything done. I feel like my house is in shambles. The kids need fall/winter clothes and shoes, yet I haven't had time to get out and shop for anything, let alone figure out exactly what they need because we haven't had time to go through the closets or try anything on. Life slows down someday, doesn't it??
I truly hope that's it for our family. I don't know if we can take another round of that nastiness this year!
What/who do you want to Thank this week?