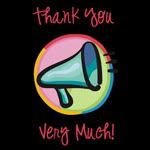 What's TYVM (Thank You Very Much)? It's my way of sarcastically thanking all the little things that have ticked me off. It serves as free therapy, and boy do I sometimes need some free therapy! TYVM used to be a weekly meme, however, I retired it awhile ago due to lack of participation. The button is still on my sidebar in case you'd like to play along. If so, please leave the link in the comments and I'll be sure to come and visit.
Thank You Very Much to Luke, who is fully mobile and into EVERYTHING. Up until this weekend, he kept the "everything" confined to our family room because he didn't want to crawl on the kitchen floor. Apparently the floor no longer bugs him anymore. He managed to find Murphy's water bowl in the dining room and practically took a bath in it…after he just had a real bath.
To Luke (again!), Thank You Very Much for head butting me in the lip. I realize it doesn't really hurt you and your big noggin, but it very much hurt my lip. Keep your head in check, okay??
To my primary care doctor and his ridiculous new policies, Thank You Very Much. I'm sorry, but hanging a sign in your exam room that says that you will only see a patient for one thing and that patients need to make additional appointments for additional issues is asinine. Even more asinine is the fact that you said to me, "I guess you didn't read the signs" when I had a simple question about whether you or my other doctor would direct my care on a specific condition. You lost a patient right there. And I have to imagine you'll be losing a lot more with policies like that.
And finally, Thank You Very Much to it already being September 30th. Christmas is less than 3 months away. I am completely freaking out about that. I'm really not ready for Christmas this year. And, along those same lines…Thank You Very Much to the retailers that already have Christmas stuff up in the stores. There are TWO holidays before Christmas. Can't we enjoy those first??
What/who do you want to Thank this week?