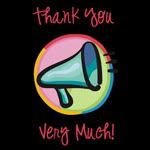 What's TYVM (Thank You Very Much)? It's my way of sarcastically thanking all the little things that have ticked me off. It serves as free therapy, and boy do I sometimes need some free therapy! TYVM used to be a weekly meme, however, I retired it awhile ago due to lack of participation. The button is still on my sidebar in case you'd like to play along. If so, please leave the link in the comments and I'll be sure to come and visit.
Thank You Very Much to the wonderful weather of Michigan. It was cool yesterday, but Tuesday is supposed to be 93, and then by the time we reach Friday, it will be a high of 60. Hello bi-polar weather! I'm sure someone is going to get sick.
Speaking of sick, Thank You Very Much to the stomach bug that Nick picked up that ruined our camping weekend. He, Luke, and I had to stay home because he was just not feeling good enough to camp. The bug also lasted four days and his stomach/appetite still isn't back to normal.
To my eczema, which is raging, Thank You Very Much. I'm pretty sure my hands are the worst they've ever been, especially my index finger. I have a huge split in the skin and it just won't heal. It's painful, and itchy, and just plain miserable. And if that wasn't enough, my legs reacted to some lotion that was used during a pedicure on Saturday and they are beyond itchy. I hate eczema.
And finally, Thank You Very Much to all the young people at the bars this weekend. You did an excellent job making me feel OLD. While we had a good time people watching, it was painfully obvious that I no longer fit in with that scene.
What/who do you want to Thank this week?