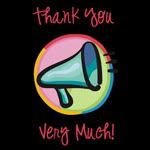 What's TYVM (Thank You Very Much)? It's my way of sarcastically thanking all the little things that have ticked me off. It serves as free therapy, and boy do I sometimes need some free therapy! TYVM used to be a weekly meme, however, I retired it awhile ago due to lack of participation. The button is still on my sidebar in case you'd like to play along. If so, please leave the link in the comments and I'll be sure to come and visit.
Thank You Very Much to the plague which entered our house and took each one of us (minus Jdaddy scratch that. Jdaddy woke up this morning feeling like he was punched in the gut) down, one by one. First Nick, then Luke, and then both Jack and I got it at the exact same time.
A further, Thank You Very Much to the way in which it took out Luke. I shared that post last week.
The worst part was the extreme stomach ache. A HUGE Thank You Very Much to the worst stomach ache I have ever experienced. It brought Jack to tears and made me want to cry myself.
And finally, Thank You Very Much to the fact that I got the slightly worse version. I guess, if I really think about it, it's better that I got the worst version, but it still sucks.
I truly hope that's it for our family. I don't know if we can take another round of that nastiness this year!
What/who do you want to Thank this week?