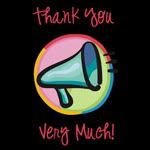 What's TYVM (Thank You Very Much)? It's my way of sarcastically thanking all the little things that have ticked me off. It serves as free therapy, and boy do I sometimes need some free therapy! TYVM used to be a weekly meme, however, I retired it awhile ago due to lack of participation. The button is still on my sidebar in case you'd like to play along. If so, please leave the link in the comments and I'll be sure to come and visit.
Thank You Very Much to Luke's horrible sleeping habits as of late. Waking up twice a night (once between 11 and 12, and again between 4 and 5) is NOT COOL. In fact, my lack of sleep is definitely making me lose my cool more than I would like to admit.
To Luke (again!), Thank You Very Much for blowing out your diaper on the way to your doctor's appointment last week. I so appreciate the "poop up the back" blowouts, especially while we're not at home.
One more for Luke. To peeing through your diaper and pj's and THEN peeing while I was changing you, Thank You Very Much. I know you thought it was funny, evidenced by your squeals and laughter, but it wasn't. It's especially not funny when you pull those stunts during the week, as I'm rushing around trying to get us all out the door on time!
And finally, Thank You Very Much to the school photographers. The boys' pictures did not turn out well at all. I decided to forgo retakes because I just don't have any faith that the retakes will turn out any better. Boo.
What/who do you want to Thank this week?