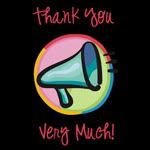 What's TYVM (Thank You Very Much)? It's my way of sarcastically thanking all the little things that have ticked me off. It serves as free therapy, and boy do I sometimes need some free therapy! TYVM used to be a weekly meme, however, I retired it awhile ago due to lack of participation. The button is still on my sidebar in case you'd like to play along. If so, please leave the link in the comments and I'll be sure to come and visit.
Thank You Very Much to my face, which broke out worse than I think it ever did when I was in high school. WTH? As if I need wrinkles AND pimple.
To McDonalds, Thank You Very Much for discontinuing your foam cups. There's really nothing like a diet coke in a foam cup. The plastic cups sweat, and the ice melts quickly. I realize it's probably better for the environment, and more expensive for you to continue to offer them, but I would seriously pay 50 cents more for a foam cup.
To Walgreens, who has messed up two of our recent prescriptions, Thank You Very Much. I realize that a days to fill error might not be such a big deal to you, but you've screwed up our ability to fill prescriptions twice in the last month. Most recently being LUke's acid reflux medication. Two days without his meds and he was a cranky baby…rightfully so! And why is that I'm the one that has to catch your mistakes. You should be able to use some common sense to realize that something isn't right.
And finally, Thank You Very Much to the refs at Jack's hockey tournament over the weekend. They were seriously the WORST refs I've ever seen. Whether you win or lose, playing with crappy refs just sucks.
What/who do you want to Thank this week?