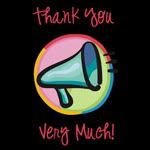 What's TYVM (Thank You Very Much)? It's my way of sarcastically thanking all the little things that have ticked me off. It serves as free therapy, and boy do I sometimes need some free therapy! TYVM used to be a weekly meme, however, I retired it awhile ago due to lack of participation. The button is still on my sidebar in case you'd like to play along. If so, please leave the link in the comments and I'll be sure to come and visit.
Thank You Very Much to the bottle of formula that basically emptied out in Luke's diaper bag. EVERYTHING was soaked, and stinky. There's not much that smells worse than rotten milk/formula. Blech. At least I was able to throw the diaper bag in the wash and thus, save it.
To Jack and Nick, Thank You Very Much for agreeing to keep an eye on Luke while I threw some laundry in the washer and then "forgetting" your job. In those very quick 2 minutes, Luke managed to, once again, get into and dump over, Murphy's water bowl. Seeing as the bowl was pretty full (and large), we had a nice little lake going on in the dining room.
To Murphy, who got out of the house and ran around like an idiot, refusing to come in, Thank You Very Much. I know you think it's a game, but let me tell you, it's not very funny or fun…especially when you are heading for the 55 mph main road. I hope you enjoyed all of your "quiet time" in your crate yesterday. I do want to send out a heartfelt thank you to the neighbor that so kindly helped me corral Murphy. I know he felt sorry for me, as I was in my pj's and Jdaddy's shoes. It still took us 30 minutes to get him, but at least I had some help.
And finally, Thank You Very Much to the person staying in the hotel room next to me last week. I woke up at 5:30 a.m. thinking someone was in my room, talking, because you were standing right next to the door that joined our rooms together, talking on your phone. Holy shit did it scare me. That is definitely not the way to wake up!
What/who do you want to Thank this week?