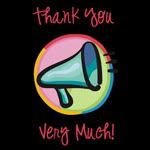 What's TYVM (Thank You Very Much)? It's my way of sarcastically thanking all the little things that have ticked me off. It serves as free therapy, and boy do I sometimes need some free therapy! TYVM used to be a weekly meme, however, I retired it awhile ago due to lack of participation. The button is still on my sidebar in case you'd like to play along. If so, please leave the link in the comments and I'll be sure to come and visit.
Thank You Very Much my lips, which have been severely chapped for over a week now. They feel tight, sandpaper-ish, swollen, and they burn. Chapstick makes them too sticky, and Vaseline lip stuff just isn't cutting it. It is super annoying!
To myself, Thank You Very Much for mixing up the dates for Nick's "Reader of the Month" assembly. Because I had the wrong day in mind, I ended up not being able to attend due to work conflicts. I felt so bad.
To myself and my klutzy tendencies for spilling an entire glass of wine all over myself and my phone, Thank You Very Much. I don't know what it is about me that leads me to spill all over myself, but it happens over and over again. The worst is when you spill an adult beverage. I'm pretty sure that's equivalent to alcohol abuse.
And finally, Thank You Very Much to Jack, who is just growing up way too quickly for both Jdaddy and me. He's starting to ask questions that we aren't exactly ready to answer. Help!
What/who do you want to Thank this week?