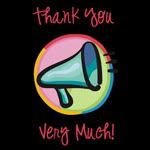 What's TYVM (Thank You Very Much)? It's my way of sarcastically thanking all the little things that have ticked me off. It serves as free therapy, and boy do I sometimes need some free therapy! TYVM used to be a weekly meme, however, I retired it awhile ago due to lack of participation. The button is still on my sidebar in case you'd like to play along. If so, please leave the link in the comments and I'll be sure to come and visit.
Thank You Very Much to me, for pretty much losing my mind and deciding to take all three kids out to dinner and to the mall to go shoe shopping for Jack and Nick. Even worse, I forgot to change my shoes before we went and I was wearing my boots with heels. Yes, my feet were killing me by the time we left. Yes, Luke required me to carry him for the last half an hour. And yes, I was EXHAUSTED.
To Walmart, Thank You Very Much for your "one size fits most" winter hats. Apparently both Luke and Nick aren't included the in "most" category because your stocking caps don't even cover their ears!
To Murphy, who has been driving me CRAZY with his attention needs Thank You Very Much. He is such a jealous dog lately, and I just don't have time to spend several hours wrestling on the floor with him. Throwing the ball, pets, and scratches are all of a sudden not enough and he take every opportunity he gets to whine at me and tackle me if I get on the floor.
And finally, Thank You Very Much to Nick, who sleeps just like his father. While Jdaddy was gone hunting, Jack and Nick took turns sleeping with me. Jack sleeps just like me, fairly quietly. Nick, on the other hand, snores like a lumberjack. I rolled him over at least 4 times during the night! The good news is that he admitted just yesterday that sleeping in his own bed is better, so maybe I don't have to worry about sharing the bed with him again!
What/who do you want to Thank this week?