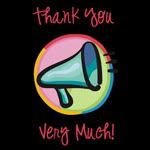 What's TYVM (Thank You Very Much)? It's my way of sarcastically thanking all the little things that have ticked me off. It serves as free therapy, and boy do I sometimes need some free therapy! TYVM used to be a weekly meme, however, I retired it awhile ago due to lack of participation. The button is still on my sidebar in case you'd like to play along. If so, please leave the link in the comments and I'll be sure to come and visit.
Thank You Very Much to my clumsy self, for not only dropping several things yesterday, but also falling down the last few steps last night. I completely wrenched my shoulder and neck. I hate being clumsy.
To the full moon last week, Thank You Very Much for inciting complete insanity at work. COMPLETE INSANITY. It's like all the crazies came crawling out of the woodwork!
To the FREEZING cold weather, Thank You Very Much. I realize we had a pretty mild fall thus far, but to drop to 20 degrees (and lower!) without warning is just wrong. Brr!!
And finally, Thank You Very Much to clothing designers who don't make comfy pajama pants with pockets for women. You can find pajama pants for men with pockets, but then they also have a fly. Why wouldn't a woman want a pocket?? I just don't get it.
What/who do you want to Thank this week?