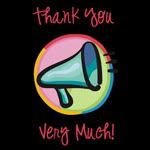 What's TYVM (Thank You Very Much)? It's my way of sarcastically thanking all the little things that have ticked me off. It serves as free therapy, and boy do I sometimes need some free therapy! TYVM used to be a weekly meme, however, I retired it awhile ago due to lack of participation. The button is still on my sidebar in case you'd like to play along. If so, please leave the link in the comments and I'll be sure to come and visit.
Thank You Very Much to the rotten cold that put a damper on Luke's first Halloween. He seemed very tired and not at all smiley (which isn't like him) all evening, and then woke up during the night choking on his snot and unable to breathe. Poor kiddo.
To Daylight Savings, Thank You Very Much for even existing. I enjoyed you pre-kids, but after kids, notsomuch. You screw up the kids' routines both at the beginning of Daylight Savings and at the end, and I'm the one that suffers! Luke was up at 5:45 yesterday morning. That's just painful.
To Mother Nature, for making it rain on Halloween, Thank You Very Much. Is it seriously too much to ask to have ONE nice Halloween evening? The day before Halloween, it was beautiful. In the 50′s and sunny. The day of? It poured all.day.long. If it's not raining on Halloween, it's 32 degrees. Can't we ever get a break??
And finally, Thank You Very Much to myself for ruining my pedicure the same day I got it. I received a gift certificate for a pedicure last Christmas, but never had the opportunity to use it. I finally had a day off, so I scheduled an appointment. The lady that did it told me to keep my socks off for about an hour afterward, which I did, but it was cold out, so I put them on shortly after an hour and apparently it was too soon. I have creases on my big toes. Bummer.
What/who do you want to Thank this week?