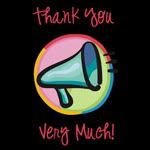 What's TYVM (Thank You Very Much)? It's my way of sarcastically thanking all the little things that have ticked me off. It serves as free therapy, and boy do I sometimes need some free therapy! TYVM used to be a weekly meme, however, I retired it awhile ago due to lack of participation. The button is still on my sidebar in case you'd like to play along. If so, please leave the link in the comments and I'll be sure to come and visit.
Thank You Very Much to the mother that never RSVP'd for Nick's birthday party, even after I sent a SECOND note home asking if her son was planning on coming and gave her three ways to get back to me (phone, email, and text). How nice of her.
To another invitee's mother, Thank You Very Much for self-inviting your 4 year old daughter, even though I didn't indicate that siblings were invited. And even better? Thank You Very Much for sending me a text and saying that your kids wouldn't be at the party one hour before the party started. I'm so glad I prepared a party favor for your 4 year old.
To the window installers who did not tarp our house like they were supposed to, creating a mess that needed to be vacuumed and mopped before we could put everything back, Thank You Very Much. I hope we never, ever, ever have to have new windows installed again. What a PITA!
And finally, Thank You Very Much to the virus that has now infected Nick. It's bad enough that he got it, but even worse is that he got sick immediately after his party. Poor guy.
What/who do you want to Thank this week?