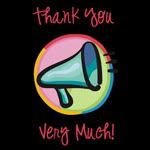 What's TYVM (Thank You Very Much)? It's my way of sarcastically thanking all the little things that have ticked me off. It serves as free therapy, and boy do I sometimes need some free therapy! TYVM used to be a weekly meme, however, I retired it awhile ago due to lack of participation. The button is still on my sidebar in case you'd like to play along. If so, please leave the link in the comments and I'll be sure to come and visit.
Thank You Very Much to the service center that had my truck for being so disorganized. First I was supposed to drop it off on Monday night, then on my way there, i was told they couldn't take it until Friday. Then on Friday I was told it would be done Saturday, but once I was home they called and said it wouldn't be until MOnday, so they arranged for a rental for me. Then at 2 p.m. that SAME day, they called and said it was done. While I'm glad it was done much sooner than anticipated, the back and forth was annoying.
To Jdaddy and me, Thank You Very Much for forgetting that we were supposed to be the Tooth Fairy. Jack woke up on Saturday morning a bit upset that the Tooth Fairy didn't take his tooth or leave any money. Oops.
Again to Jdaddy and me, Thank You Very Much for losing Nick's tooth that he just lost. The only upside is that Nick is totally laid back and decided that leaving a note for the Tooth Fairy was just fine with him as long as he'd still get some money.
And finally, Thank You Very Much to whatever is bugging Luke that has caused him to sleep and nap like crap for the past week. I'm not sure if he's teething, if it's that he's about to hit a milestone and he can't settle down, if he has an ear ache (without other symptoms) or what, but it's making all us crabby.
What/who do you want to Thank this week?