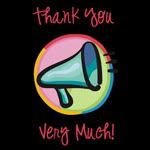 What's TYVM (Thank You Very Much)? It's my way of sarcastically thanking all the little things that have ticked me off. It serves as free therapy, and boy do I sometimes need some free therapy! TYVM used to be a weekly meme, however, I retired it awhile ago due to lack of participation. The button is still on my sidebar in case you'd like to play along. If so, please leave the link in the comments and I'll be sure to come and visit.
Thank You Very Much to the virus that had Luke down and out last week and that caused me to miss 3 days of work. He had a miserable fever and a TON of drainage. Poor little guy just couldn't kick it either, so that led to two trips to the doctor within 3 days.
To Cody (our Elf on the Shelf), Thank You Very Much for not being real and moving yourself. I'm a busy mom, and I don't always have time to move you around. The least you could do is help me out and move yourself when I forgot to move you.
To AmericanGirl.com for changing their backorder status on an outfit from "backordered to December 12, 2013″ to "backordered to January 10, 2013.", Thank You Very Much. Really?? A whole month? You just made shopping for my niece much more difficult.
And finally, Thank You Very Much to the circumstances that led to me missing the hockey game in which Jack got a hat trick. 3 goals and an assist during the game and I wasn't there to see him. While I was very bummed about not being there to witness it, it was for a good reason. My niece was baptized this weekend and I was asked to be her sponsor. So as much as I wish I had seen his hat trick, I'm just as glad that I was chosen to be a part of my niece's very special day.
What/who do you want to Thank this week?