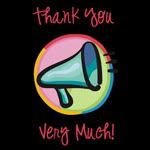 What's TYVM (Thank You Very Much)? It's my way of sarcastically thanking all the little things that have ticked me off. It serves as free therapy, and boy do I sometimes need some free therapy! TYVM used to be a weekly meme, however, I retired it awhile ago due to lack of participation. The button is still on my sidebar in case you'd like to play along. If so, please leave the link in the comments and I'll be sure to come and visit.
Thank You Very Much to myself for being extremely judgmental regarding the mother that RSVP'd for Nick's party and self-invited her daughter to the party, then sent me a text to tell me that they wouldn't be able to make it. I found out some things about that family that made me feel absolutely horrible for being so judgmental.
To myself, Thank You Very Much for completely forgetting about TYVM last week. It wasn't until New Year's Day that I even realized that I had forgotten to post anything!
And while I really like the snow (and the blizzard that we are in right now), Thank You Very Much for always deciding to "storm" when Jack has hockey things going on. Two of his games (and his hockey team Christmas party) have been cancelled this year because of the snow. He has been quite the disappointed little boy.
And finally, Thank You Very Much to the cold virus that keeps getting passed back and forth between Luke and me. He can't seem to stay healthy for more than a week, and I can't seem to just get rid of this cold once and for all.
What/who do you want to Thank this week?