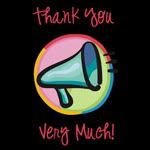 What's TYVM (Thank You Very Much)? It's my way of sarcastically thanking all the little things that have ticked me off. It serves as free therapy, and boy do I sometimes need some free therapy! TYVM used to be a weekly meme, however, I retired it awhile ago due to lack of participation. The button is still on my sidebar in case you'd like to play along. If so, please leave the link in the comments and I'll be sure to come and visit.
Thank You Very Much to my truck, which shut down while on my way to work on Tuesday. All of a sudden, the cruise control shut off, bells and whistled tone, and a warning notice about my engine power being reduced flashed on the instrument cluster. Of course, Jdaddy was out of town for work as well. The truck was fixed the same day, but it was a major inconvenience.
To Daylight Savings, Thank You Very Much. I hate you.
To the crazy hockey parents we had to deal with at a game this weekend, Thank You Very Much. Encouraging your children to "take him down" is not how we play hockey. And, to the father who called us all a-holes when we just laughed at your behavior, well, that was just so nice of you.
And finally, Thank You Very Much to busy weeks and weekends which leave zero time for relaxation and not quite enough time to complete everything that needs to get done each week. I am SO behind on housework. Ugh.
What/who do you want to Thank this week?