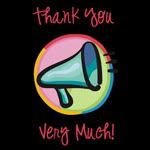 What's TYVM (Thank You Very Much)? It's my way of sarcastically thanking all the little things that have ticked me off. It serves as free therapy, and boy do I sometimes need some free therapy! TYVM used to be a weekly meme, however, I retired it awhile ago due to lack of participation. The button is still on my sidebar in case you'd like to play along. If so, please leave the link in the comments and I'll be sure to come and visit.
Thank You Very Much to Mother Nature who is severely bipolar. We had 50 degree temps early in the week, followed by a snow storm where we got at least 9 inches of snow, only for it to once again be 50 degrees on Friday. And…we were back to 24 degrees on Sunday. What the hell?
To Luke's diapers, Thank You Very Much for leaking every night last week, even when he hardly peed. Stupid diapers. Changing pajamas in the middle of the night is so much fun.
To the colds that snuck up out of nowhere and infected both Luke and Nick, Thank You Very Much. One minute they were both healthy and the next minute they had runny, stuffy noses, and Nick was coughing like crazy. How does that happen?
And finally, Thank You Very Much to clothing manufacturers that size boys clothes in 6-7 and then leap to 8-10, which is insanely bigger than the 6-7′s. I'm having a hard time finding some athletic type pants for Jack and the 6-7′s are too short, but the 8-10′s are MUCH too big…being about 3.5 inches longer than the 6-7′s. How does that make sense?
What/who do you want to Thank this week?