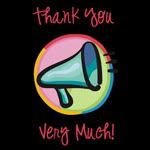 What's TYVM (Thank You Very Much)? It's my way of sarcastically thanking all the little things that have ticked me off. It serves as free therapy, and boy do I sometimes need some free therapy! TYVM used to be a weekly meme, however, I retired it awhile ago due to lack of participation. The button is still on my sidebar in case you'd like to play along. If so, please leave the link in the comments and I'll be sure to come and visit.
Thank You Very Much to whoever decided to hack into my blog and leave spam in the coding so that those who read me via a feed, or through a subscription email, have to endure spam on my posts. I'm working on getting it fixed, but until then, I'm super pissed. I don't understand the purpose of the spam. It's not like someone will see a super long paragraph with viagra and cialis links and just decide, "Hey! I think I need that!"
To my truck, Thank You Very Much for turning on my least favorite warning light once again (the "service engine" light). Thankfully, this time it's an easy fix, but COME ON! You are not that old and all this piddly crap is getting ridiculous.
To Luke, who has developed a very bad and annoying habit of screaming at the top of his lungs when something happens that he doesn't like, Thank You Very Much. It was especially fun trying to keep him quiet at Jack's hockey banquet. We pretty much failed.
And finally, Thank You Very Much once again, to Luke, for teasing me into thinking that he might be on the right track to FINALLY sleeping through the night, by doing so twice in the past week. Of course, he followed that u with being awake for an hour during the night on Saturday night and being up for good at 6:45 a.m. on Sunday. Ugh.
What/who do you want to Thank this week?