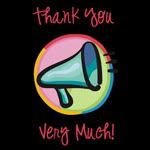 What's TYVM (Thank You Very Much)? It's my way of sarcastically thanking all the little things that have ticked me off. It serves as free therapy, and boy do I sometimes need some free therapy! TYVM used to be a weekly meme, however, I retired it awhile ago due to lack of participation. The button is still on my sidebar in case you'd like to play along. If so, please leave the link in the comments and I'll be sure to come and visit.
Thank You Very Much to the sinus crud/cold that infected Jdaddy, Nick, and me this week. I spent most of the week acutely aware of my sinuses, and by Friday night, I realized it was a full blow cold. Blah.
To Luke's teeth, Thank You Very Much for making him (and us!) miserable, non stop for the past month. Just as soon as one pops through, another is right there wreaking havoc. It sucks.
To my dogs, who each took their turn licking brownie batter off the spoon they knocked onto the floor, Thank You Very Much. To make matters worse, since Murphy has food allergies, Jdaddy came home to a complete MESS the next day because Murphy's stomach did not agree with the brownies.
And finally, Thank You Very Much to people who don't say goodbye before hanging up the phone. I just don't get it, and frankly, find it extremely rude. How hard is it to say, "Good bye" before hanging up??
What/who do you want to Thank this week?