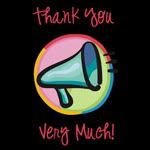 What's TYVM (Thank You Very Much)? It's my way of sarcastically thanking all the little things that have ticked me off. It serves as free therapy, and boy do I sometimes need some free therapy! TYVM used to be a weekly meme, however, I retired it awhile ago due to lack of participation. The button is still on my sidebar in case you'd like to play along. If so, please leave the link in the comments and I'll be sure to come and visit.
Thank You Very Much to Winston, who apparently contracted Murphy's "must chew up my crate mat" disease, and alas, chewed up his crate mat while we were out for dinner on Friday night. Of course, then he had some serious regret when he had to go to bed without anything in his cage, so he cried and cried and cried, and wouldn't lay down. And of course, that also meant that I was awake and finally gave him one of Murphy's old crate mats that had already been chewed up. Stupid dogs.
To the days which just keep flying by, Thank You Very Much. It's the first week of March already. How can it seriously be the first week of March already??
To the winter from Hell, that just won't go away and is making me crazy, Thank You Very Much. I don't really mind the snow, but I cannot stand the cold temps. It was -18 one morning last week. -18. That is just insane.
And finally, Thank You Very Much to our wonky thermostat, that just decides to change the set temp every once in awhile. I should probably check the batteries, but for now, I'm just going to complain.
What/who do you want to Thank this week?