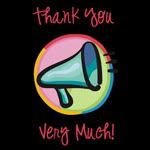 What's TYVM (Thank You Very Much)? It's my way of sarcastically thanking all the little things that have ticked me off. It serves as free therapy, and boy do I sometimes need some free therapy! TYVM used to be a weekly meme, however, I retired it awhile ago due to lack of participation. The button is still on my sidebar in case you'd like to play along. If so, please leave the link in the comments and I'll be sure to come and visit.
Thank You Very Much to the brief stomach bug that hit Nick last week, the night before I had a planned vacation day so that I could have a day to myself. Thank goodness it was short-lived and he went to school later in the morning. Bad mommy confession: I was so frustrated when he got sick, thinking it was going to ruin my much needed mental health day.
To whatever it was that hit me on Saturday night, leaving me sicker than a dog, Thank You Very Much. Before dinner? Fine. After dinner? Not fine. At all. Ugh.
I think two sick people (one being myself) is enough for a week, don't you?
What/who do you want to Thank this week?